A contemporary take on the traditional Orangery
The Livin room Orangery uses the well proven Ultraframe Classic roof system at is heart and then adds an engineered steel framing system internally, which is plastered to give a perimeter ceiling all the way round the Classic roof to give it the aesthetics of an Orangery.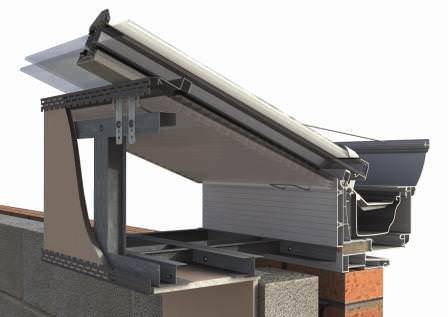 The Livin room Orangery is neither a conservatory or an extension. It combines all the benefits of a conservatory in terms of light and space but adds the solidity of an extension. The Livin room Orangery adds a whole new dynamic to the space, giving it a 'real room/living room' feel.
As with all Ultraframe products the Livin room Orangery has been extensively tested by our in-house R&D team. The Livin room Orangery is a systemised approach, yet maintains the flexibility you would associate with an Ultraframe roof system.The Livin room Orangery internally, can be further enhanced with the use of lighting within the plaster board, and is suitable to use with bi-folding and French doors. Externally the aluminium Cornice, available in a wide range of colours, can be used to add to the visual effect of the Orangery.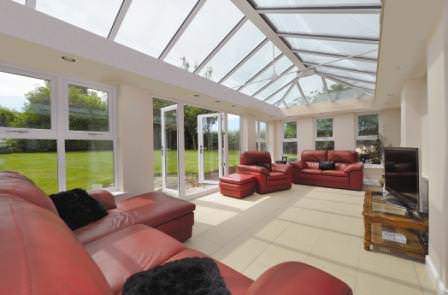 The Livin room orangery is available in a wide range of designs including Victorian, Georgian, Gable and lean-tos. And as you would expect with an Ultraframe, the Livin room Orangery comes with a holistic 10 year guarantee
Further features and benefits of the Livin room Orangery include:
Can be used at 15-40 degrees
Steelwork ladder system extends from 300mm to 1200mm
Steelwork ladder system is available on the same lead time as the conservatory roof
Can be used with standard eaves beam or the Super Duty version
Suitable for Orangeries with box gutters
Allows completion of the conservatory roof before the steel framework is fitted
Available in U-Design
As with all Ultraframe conservatory roof systems, the Livin room comes with a comprehensive installation guide which includes details on how to install the roof as well as detailed information maintenance and cleaning which can be passed on to the homeowner so that the Livinroom orangery can receive proper care and maintenance during its lifetime
Call 0843208 6941 if you buy your roofs direct from Ultraframe or contact one of our trade partners
New Product Update
Ultraframe is further developing its Cornice product for the LivinRoom Orangery. We can now offer an outlet cover which creatively integrates drainage into the design.
This outlet design is necessary when Cornice is being used on brickwork piers, as is ofton the case with Orangeries and of course the new LivinRoom product.The Cornice outlet cover is a cost option.